I recently stumbled upon Pardon My French on my way to Sylvia's house from St. Theresia church. When I see this restaurant, which I've always wanted to visit, my first thought is "I had to take Sylvia to have a dinner here".
And so last Wednesday we went to this restaurant, and we love it. We love the interiors, which is very classy with marble tables, metallic structures, and artsy posters in the wall. They also have really comfortable sofas. We also love the lighting, and the wine bottle and glass in the bar made it even more elegant and beautiful.
Sylvia and I decided to order 1 pasta and 1 pizza as the main course, and to share both of them together. Our choice falls to Crispy Pork Belly Carbonara (90k) and Crunchy Spinach Pizza (90k). For your info, both of them contains pork.
The Crispy Pork Belly Carbonara is good! The carbonara sauce is perfect, and the pork belly is delicious. We wished they give us more of the pork skin, though, because they have a really good crunchy pork skin.
We also love the Crunchy Spinach Pizza! If you don't like spinach, you don't need to worry because the spinach flavor isn't too dominant here. Instead, the pork bacon dominates the meal and it's aroma. As the name suggest, the pizza is crunchy and really thin, so it's suitable for 2 person, or even 3 person.
I ordered Iced Spanish Latte (40k) for the drink, and Sylvia ordered Iced Kiwi Tea (37k). Both are good, and the presentations of the drink is very nice.
There's also room for dessert, right? Sylvia and I both agree on this, and we ordered Cocoa Lava Cake (55k). It was perfect! The melted chocolate is very good, and the texture of the cake is excellent. The service is good also, for they wrongly give us Ube Cake at first, but they are willing to remake the order.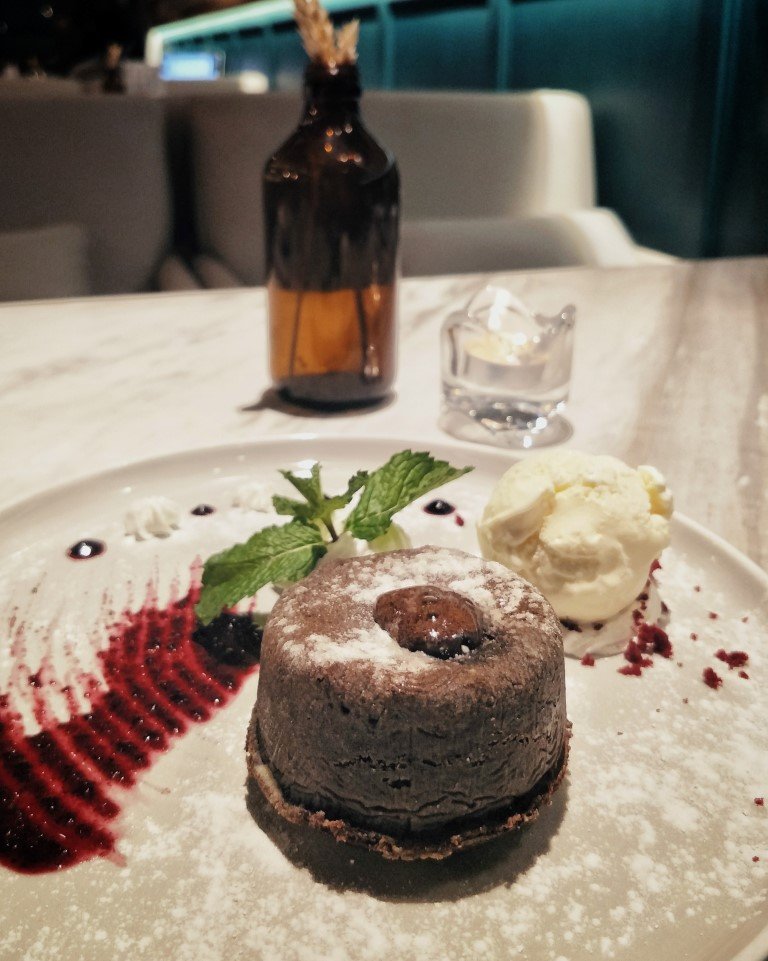 Overall it's a really nice experience, having dinner in Pardon My French. The great ambience and food made our date night a pleasant one. Recommended for you who are looking for a nice chilling place to have a nice meal.
Pardon My French
Jl. KH. Wahid Hasyim No.154
Open 9AM-10PM Weekdays, until 12AM on Weekends.
Ysteven's rating : 8.5/10